We no doubt live in a dynamic world where change is the only constant. Seasons change, fashion changes, laws and rules change; even we as individuals change. Somehow, there is one change that when it happens, it throws off our equilibrium. This is one that hits most of us where it hurts… directly to our bottom line. This post will explore what to do when your job leaves you.
Do you notice that the title says "when your job leaves you"? This doesn't apply to a conscious decision to move on from one job to the next. It could, but that isn't my focus.
There are several ways in which your job can leave you. You have been laid off for whatever reason; downsizing, acquisition or any other made-up reason that companies use these days when they want to preserve their bottom lines. Or even worse, you could be fired! I have never been fired but I imagine this would rank among the worst of the lot. Whatever the reason may be,  at the end of the day, you lost a job you did not plan on losing at that time.
Now that we have established that stuff happens, and a job is never guaranteed(which should put a lot of things in perspective for all of us non-entrepreneurial types), let's look at some practical ways that we can handle and adjust to this loss and springboard into a brighter future.
Get your mind right
It's hard to lose your livelihood, no doubt about that! No matter how it happens it feels like someone hit you below the belt or knocked the wind out of you. Feelings of betrayal take over, almost as if some deep agreement was broken, unfairly. I know! I have been there and I can tell you it doesn't feel good. You feel angry and terrified at the same time. You can be left feeling inadequate as well. However, like any other change that happens in life, you must grieve; especially when it involves loss.
The trick is not to remain there. You MUST get your mind right in order to move on. No use carrying hard feelings for companies that are doing what they are supposed to be doing; which is protecting their interests. By the same token, you must protect yours. Your sanity, above all, is not worth wallowing in that state. You must muster the strength and be emotionally intelligent enough to find the focus needed to take the next step. If you do not, you will find your self stuck and you will wonder a year, even two years after, what have I done with my time.
Decide what's next
Depending on your situation, you must try to figure out your next move. You will have decisions to make. Questions like "Will I remain in the same field?", "Will I start searching for another opportunity?", "Should I go back to school?", "Do I start my own business?"; just to name a few. This will be a time to reflect on what you have done so far and where you see yourself going. It's actually the perfect opportunity to review and find your passion. At this point, what do you have to lose? Of course, the bills need to be paid, but you know, greatness is often born out of adversity. I have heard so many stories of other people's experiences where the adverse and urgent situation birthed a new business, side hustle or even a new career direction.
While you're mulling over your options and trying to figure out your long-range goals, you will also need to figure out how you will sustain yourself through it. That's a whole other topic.
Make a plan
Now that you have given the situation some thought, it's time to make a plan. You can do the standard planning method of short, medium and long-range plans. This helps to put things into perspective and it does help to write things down. Most of us are visual so articulating and documenting a plan helps us drive towards the goals that we set.
One guiding principle is to have SMART goals. There are tons of resources and templates out there that can help you in your goal setting and planning. SMART stands for
Specific
Measurable
Achievable
Relevant/Realistic
Time-Framed
Execute(Work Your Plan)
Now that you have set your goals, it's time to execute! It's so much more purposeful and rewarding when you execute against a plan rather than just shooting in the breeze(it must be the project manager in me speaking but it really is). You have guiding posts against which to measure your progress and you feel accomplished as you progress through them. This helps keep frustration at bay and keeps you focused on your goal.
Let's say you are job hunting. If you just wing it, you might get frustrated because you're not hearing back from the companies you're applying to. Without knowing how many and what kinds of jobs you're reaching for it's hard to justify the frustration. On the other hand, if you took a more measured approach and you knew the kinds of companies that are responding, the types that are not, then you can figure out where to focus your efforts. This will lead to better success and an overall better mental experience.
Read my previous post about change.
Conclusion
Things can get really hard during tough economic times especially when your income is lost unexpectedly. But you cannot stay there. It's a time to make mental adjustments; tweaks for some but overhauls for others. It may result in a change in how you live so you can prepare to move forward. It's also a time to lean on support from friends and family as you navigate through that difficult time. For those of you of faith, it's a time to dig into your Source. Remember, there is no shame in it. Stuff happens! Your job does not define you, neither is it guaranteed.
I hope these few helpful tips can help you if you are experiencing a job loss or in the future if by some misfortune it happens. I hope it doesn't. But if it does, you are not alone. I have been through it twice before. I am still standing.
Let me know your thoughts. Feel free to share any suggestions or tips you might have if your job has ever left you. Looking forward to hearing from and sharing with you.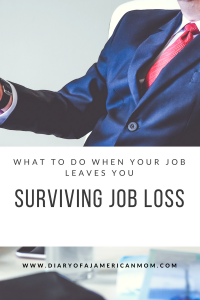 You May Also Like